Knik Glacier/Chugach Mountains Tour
Come fly with Us!
This Alaska Flightseeing Tour of the Knik Glacier and Chugach Mountains is an excellent choice for a day trip from Anchorage. Approximately 1 1/2 hours. (Add 30 minutes for wilderness landing).
After takeoff you will be treated to an overfly of Anchorage City proper. From up here you can envision the edge of the wilderness lifestyle and beauty literally out the back door of Anchorage residents. From there we'll discover the largest city park in all of the U.S. and spend time looking at Elmendorf Air Force Base and Fort Richardson Army base. We will soon be in the heart of the Chugach Mountain Range spotting for moose, Dall sheep, and mountain goats. After you soar over the Chugach Range we will fly out over one of the most scenic areas in Alaska, the Knik and Colony Glacier Valleys.
We'll spend flight time in the glacier filled Knik Glacier area and explore the vast ice fields. Flightseeing over the Knik you will get a once in a lifetime view of this gigantic glacier. Stretching 5 miles wide and 25 miles long, this azure blue glacier winds its way through the Chugach Mountain Range. Less than a mile away lays the end to another great geographic wonder, the Colony Glacier. The steep decent of the Colony and its "ice falls" make for incredible aerial photos. We can drop in for a ground level photo opportunity and bush pilot landing on a remote landing spot if you feel adventurous! After the glacier view photo shoot your flightseeing tour will continue as you fly low over the Knik River Valley and spot for moose and bears on the way back into Anchorage.
Landing on the Knik River
If you're feeling adventurous we can drop in for a bush pilot landing on a remote area for a brief ground level experience. After this up-close iceberg and nature viewing opportunity your flightseeing tour will continue with a meandering scenic return to Anchorage. We'll fly low over the Knik River Valley, see the homesteaded farms of Palmer, explore upper Cook Inlet, and view the historic Native Village of Eklutna all while spotting for moose and bears!
We utilize specially modified Cessna wheeled planes where every seat is a window seat. Music, two-way Bose noise-cancelling communication headsets, and on board beverages are standard on our flights. Our experienced Alaska pilots were raised in this very country and love showing it off. This flight experience will be like no other and tailored just for you!
Contact us today to book your Flightseeing Tour of the Knik Glacier and Chugach Mountains…
$385.00 per person. Optional landing.
Total Duration: 1 ½ – 2 ½ Hours depending on flight route and optional landing.
Dates of Operation: See times under Book Your Flight Now but call if you need something different! 907.694.TOUR(8687)
Landing: Optional gravel strip or grass meadow.
2 Person minimum. (Single? See our Bush Pilot Special!!)
"Alaskan's showing you Alaska!!"
BOOK FLIGHTS HERE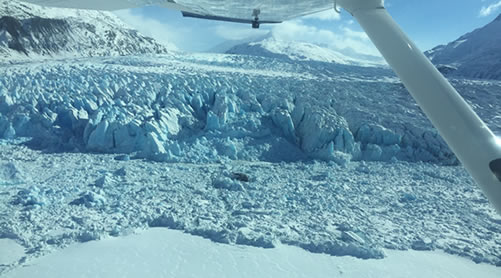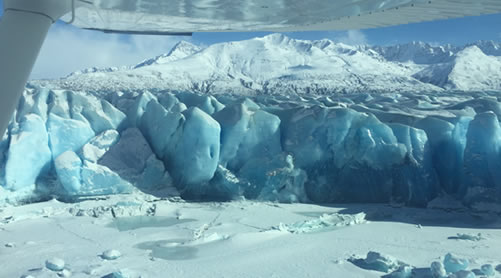 Mount your GoPro on our plane and get the same pictures and video !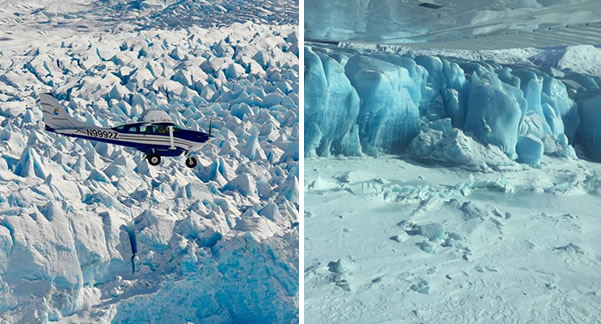 Knik River Flightseeing
From Wikipedia:
The Knik River is a 25-mile-long river in the U.S. state of Alaska. Its source is at Knik Glacier, from which it flows northwest and west and empties into the head of Cook Inlet's Knik Arm, near the mouth of the Matanuska River. It is bridged twice (old and new bridges) where the Old Glenn Highway crosses it near the Butte, and also bridged on the Hayflats.
It is characterized by a broad flat plain with a bed of finely ground gravel and sand and silt. During windstorms, large quantities of fine material is blown from the riverbed and deposited in locations generally downstream or west. The river itself is relatively shallow and wide and considered a class I float. It drops about 400 feet from the glacier to the Salt water, or roughly 16 feet per mile. The 4 miles above the hayflats bridge is unusual in that it remains unfrozen most winters because the Eklutna project discharges warmer water into the tailrace.